When it comes to home improvement projects, the bathroom is sometimes overlooked. But why should it be? It's the place where you get ready for the day, clear your head with a relaxing shower or bath and, if you use a bit of creativity during the design process, it can become your own personal sanctuary. The bathroom vanity is a key element that plays two roles—it stores your things and acts as a main focal point that helps set the aesthetic of the room.
But, as you're browsing through Pinterest to get ideas for your bathroom vanity, an age-old and seemingly inevitable question pops up: how do you strike that perfect balance between storage space and style? Sometimes these two qualities seem to be at odds with each other. But the truth is, with adequate planning, you can have the best of both worlds.
In this blog post, we'll give some tips on choosing a bathroom vanity that will keep all of your things organized while enhancing the aesthetics of one of the most important rooms in your home.
Measure the space
The first step when choosing a bathroom vanity is to figure out how much space you actually have. First, you might want to define the absolute maximum size for the vanity by taking into account walls, the bathtub, or any other fixture that limits the amount of space that the vanity can take up. If you have a small bathroom with a sink that's very close to the wall, you could consider getting a corner vanity.
After determining the max size of your bathroom vanity, figure out an ideal size based on the proportions of the bathroom and your aesthetic preferences. After all, maybe you have a big bathroom that could fit a vanity the size of a couch—but if you're aiming for a chic and old-fashioned look, is that really what you want?
To get a better picture of the size of the different components in your bathroom, you can take measurements of everything and draw up a floor plan. There are even free websites and applications that allow you to easily create these plans and move objects around to see how they would fit. This extra step may seem tedious, but it can actually be quite fun, and it may keep you from making a purchase that you'll later regret.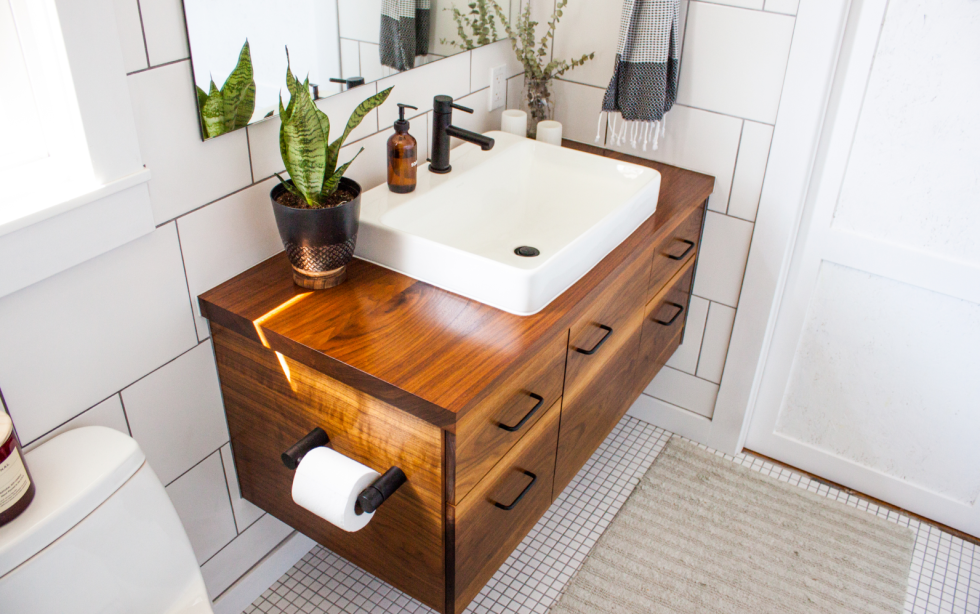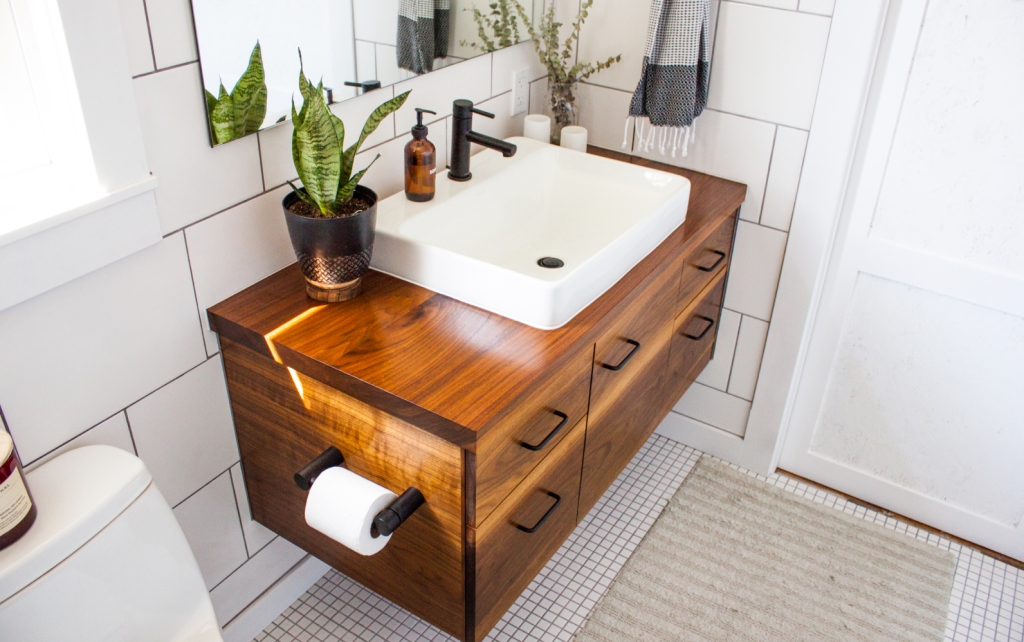 Define your storage needs
Once you've measured your space, figure out how much storage capacity you need in a bathroom vanity by taking inventory of the objects you'll actually keep in it. If you already have a vanity installed, take a look inside. Is it overflowing with things or is there space to spare?
If you're installing a vanity in a brand new house and you don't have an old vanity to use as a reference, we recommend gathering everything you would store in the vanity, setting it out on a table and measuring the space. That way, you'll get an idea of how large the bathroom vanity should be. This might seem like an unnecessary step, but oftentimes people underestimate their storage needs until they see all their belongings in one place.
Think about the intended aesthetic
Have you already pinned down your storage needs and the ideal size range for your bathroom vanity? Well, now it's time for what most people consider the more interesting part.
Consider color scheme
When you think of a bathroom vanity, you probably think of a neutral-toned piece of furniture. Indeed, vanities tend to come in natural wood tones, white, beige, or perhaps bluish gray for a beach-themed bathroom. Those classic, muted colors are tried and true, so there's no shame in going with one of them—it's almost sure to look great in your bathroom.
However, if you like to push the envelope a bit when it comes to home design, you could get a bathroom vanity in a bright color that contrasts with the wall color and existing decor in your bathroom. This approach is a bit more risky, but you may end up with a really interesting statement piece and a bathroom that looks like no other.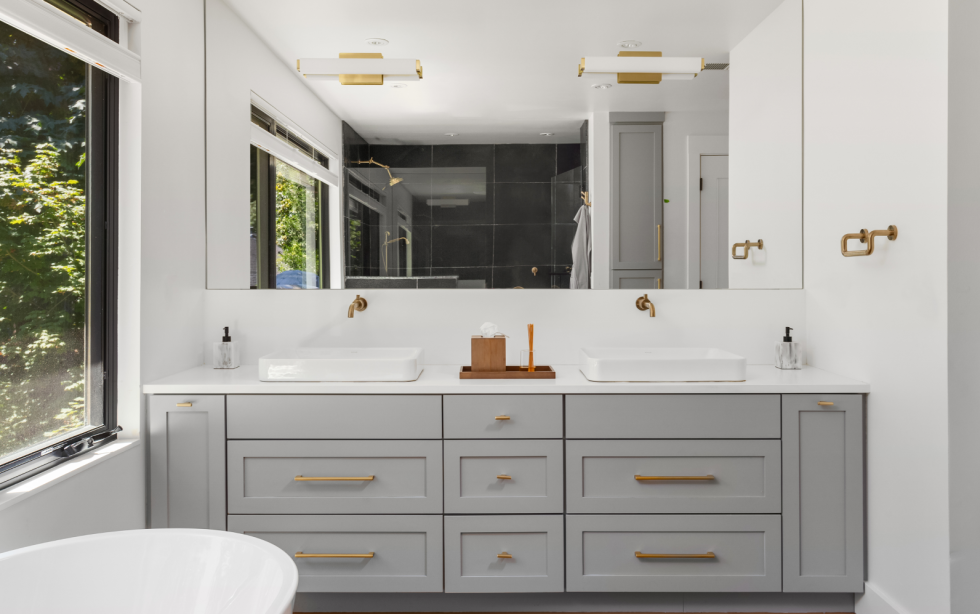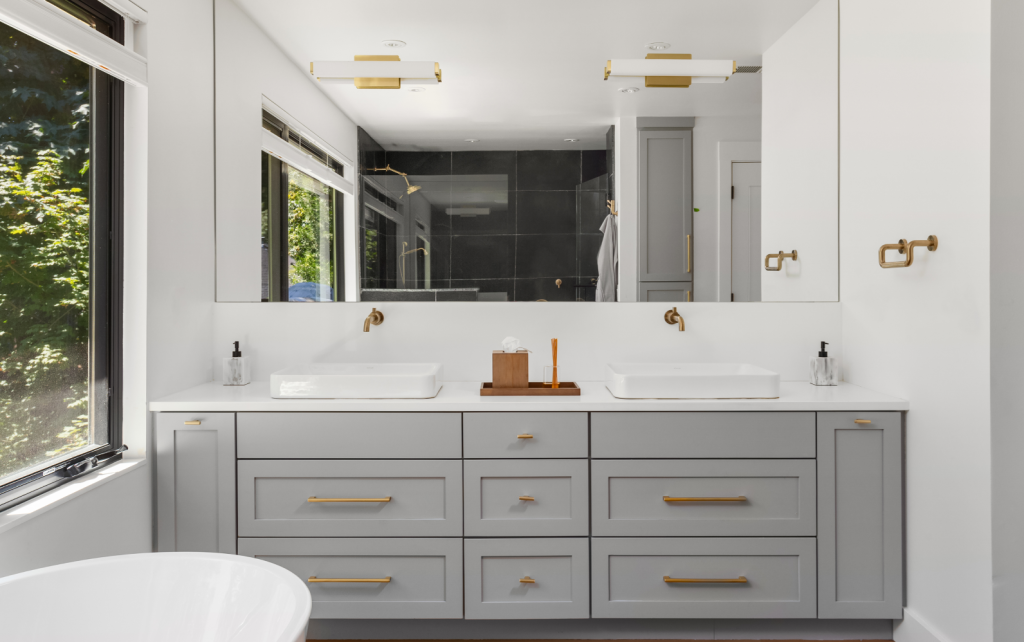 Rustic, mid-century modern or minimalist?
Last but not least, think about the intended style of your bathroom and how that translates into the design of a bathroom vanity. For example, a mid-century modern bathroom vanity may be elegant in its simplicity, with one or two flourishes (such as ornamental handles) to give it a special touch, while a minimalist bathroom vanity is designed with total simplicity as its guiding principle.
Get expert installation
After spending time and energy picking out the perfect bathroom vanity that fulfills both your storage and style needs, make sure you do it justice by getting it put in by a team of professionals.
At PIC Home Pros, we love helping people make their dream bathroom a reality. Contact us today for a free quote.