Bathroom remodeling is important both to create a modern and safe space and to give your home a fresh feel.
The bathroom is as important as the other corners of a house and yet, it is often the most forgotten space by all owners. It is time to give the change it needs to make it beautiful and functional at the same time through a successful bathroom renovation plan.
Before starting, you should keep in mind that it is always necessary to plan the renovation thoroughly and make the right decisions in order not to regret the end result, waste money, and avoid improvements in the near future.
Do you feel like your bathroom is old and doesn't have that modern, comfortable look you've always dreamed of? Our experts in the field suggest these 5 steps to remodel it and surprise both your family and your guests.
Evaluate the Design and Costs of a Bathroom Remodel Plan
Before you start your bathroom remodeling plan, you should decide which design will suit your needs, as there are different ways to approach this project, from repainting and replacing the bathtub to emptying the space and starting from scratch.
For example, when defining a color palette, you should analyze if it matches the rest of the elements in your bathroom. To do so, you can take inspiration from websites like Pinterest or decor magazines.
You will also need to consider what you are going to do with your storage spaces. Specifically, we recommend checking where electrical wiring and plumbing pipes are located to avoid damaging them and having to make costly repairs.
How Much Does a Bathroom Remodel Cost?
The average total cost of a bathroom remodel ranges from $10,000 to $25,000. This depends on whether you're changing the layout or the location of plumbing, and labor accounts for at least 20% of the typical budget.
Saving Tips for a Bathroom Renovation
If you want to reduce the total cost of your bathroom renovation and are a handy person, you can do it yourself. This way, you will avoid expensive materials and renovate your existing fixtures instead of buying new ones.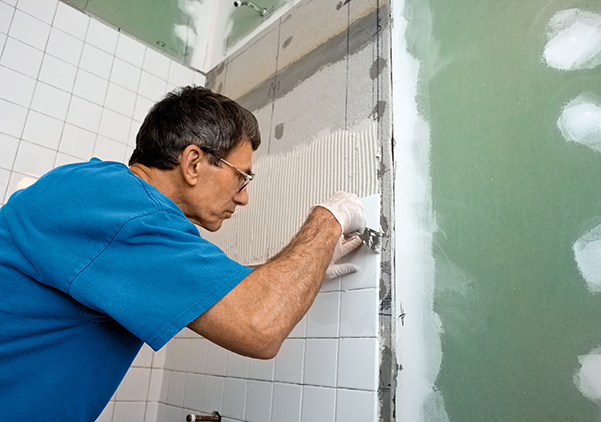 How to Remodel a Bathroom
1. Remove the Bathroom Fixtures You Will Be Replacing
To begin with, you will need to remove the drywall and fixtures that you are going to replace in your bathroom. This is something you can surely do by yourself, but make sure to keep certain tips in mind.
First off, you should start by shutting off the main water supply, emptying and removing the toilet to avoid any spills.
Then, remove the insulation from your walls using a jigsaw to cut the panels. Don't forget to wear a safety mask, gloves, and goggles so you don't get injured.
You should also remove the sink, cabinets, flooring and all the items you are replacing.
Finally, if your idea is to change the bathtub, remember to cover it and take out the bathroom tiles up to the studs.
2. Start Installing Your New Fixtures
After you have emptied your bathroom, you can now begin installing your new fixtures.
For example, if you want to replace the shower or bathtub, you should choose a tray or sink that fits the space where your current bathtub is located, and don't forget to check the location of the door.
If you have space in your bathroom, a great option to consider is installing a shower and tub combination. For example, a walk-in shower is a stylish and space-saving upgrade to any home.
3. Lay the New Floor and Drywall
If you already have your subfloor prepared, you can start installing your new bathroom flooring. For this step, our experts at Pic Home Pros recommend both classic tile and more affordable materials, such as laminate or vinyl.

Next in the bathroom remodeling plan is to hang the new drywall. Keep in mind that this can take you quite a bit of time because the new one will need to fit perfectly against the shower walls, sink, and other elements.
4. Start Coloring Your Bathroom Walls
Once you have the walls and floor in place, you can start coloring your bathroom. Painting the walls is one of the easiest and most economical ways to give the room a new look. It is best to use paint with a semi-gloss finish, which is easy to clean and mildew resistant.
You can choose to use the colors you like best. Neutrals always flatter the bathroom because they emanate cleanliness and purity, but this may not always be the case. You can also opt for very light shades of gray that give prominence to your furniture.
5. Install Your New Lighting Features
As a final step, place the electrical fixtures and install the new lighting in your remodeled bathroom. If its dimensions are larger or smaller than the current ones, you will have to adjust the wiring and possibly plug the holes in the wall.
To evenly illuminate your bathroom, you can install ceiling lights or a lighted mirror. You can also put a dimmer switch to adjust the desired amount of light.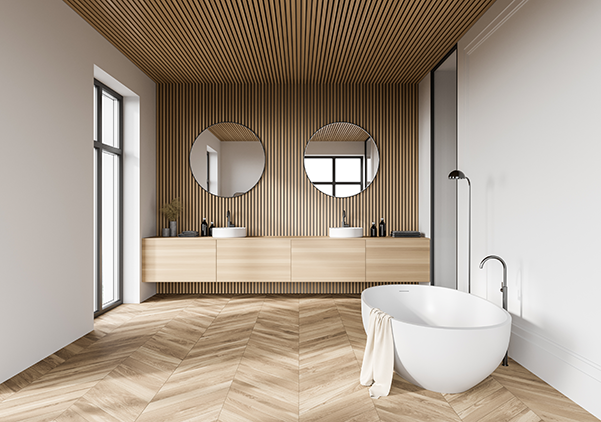 After learning these steps for a bathroom remodeling plan, it is important that you analyze your project and decide if you have the motivation to do it yourself or if you prefer to leave it in the hands of a remodeling professional, as sometimes the process can get tricky.
At PIC Home Pros, we offer long-lasting, quality bathroom remodeling solutions. Learn more about our Stylish and Fast Bathroom Remodeling. Our experts are trained to provide you with a pleasant renovation experience!