Bathrooms are an essential room in any home, so it is key to design them with a style that represents you the most. Today, we bring you simple bathroom remodeling ideas with a minimalist style so you can have the personal sanctuary you have always wanted.
The minimalist style is not only focused on design or aesthetics. It is a philosophy that uses as few elements as possible to gain functionality, sobriety, and space. The result is more pleasant and modern rooms and areas.
Although minimalism is often thought of as a bleak and harsh style, the reality is that it also gives spaces a clean and tidy look. Plus, thanks to modern architecture, you can turn your bathroom into a unique architectural masterpiece with a few minor improvements.
With that being said, today we will share with you three bathroom remodeling ideas you can easily implement to give your baths a new style and show off your good taste and personality.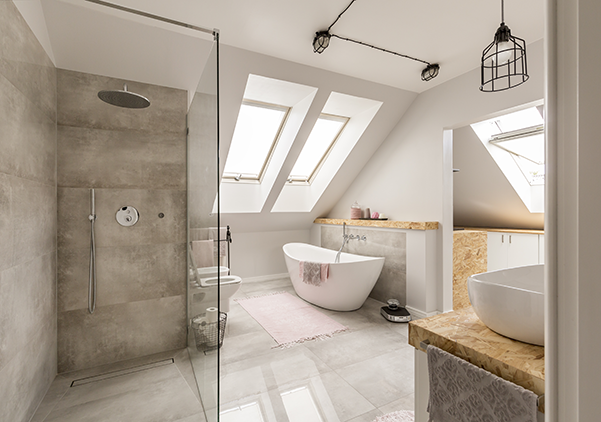 Bathroom Remodeling Planning
Before diving into our experts' remodeling ideas, let's discuss the previous step: the planning phase. When defining a new bathroom design, there are several aspects to consider:

Materials


Size of the room


Frequency of use


Financial resources available


Objects and furniture to be replaced and their respective substitutes


Location and state of the facilities of light, gas, etcetera


Map of relocation of bathroom elements


Demolition or construction of new walls
Now that you have these points in mind, let's go over the bathroom remodeling ideas!
#1: Light Color Schemes
White is often used in bathrooms, and it's also part of a minimalist environment. However, it does not necessarily have to be all plain white. Playing with cream, blue, light green tones, and even pink can generate the same relaxing and calming effect.
In addition, you should pay special attention to the lighting to make your space warm and pleasant, and create harmony with your elements. Think carefully about the pieces on display and add personality to the details.
In short, this bathroom remodeling idea is all about using neutral or pastel shades, whether for floors, walls, or ceiling, as well as surfaces, furniture, and finishes. By creating large, open, light-filled spaces with light color schemes, you'll have a fresh, relaxed-looking bathroom where you'll want to go to unwind at the end of the day.
#2: Remodeling a Bathroom with Glass Shower Screens
When designing a bathroom, choosing a solution that prevents water from flooding the space when using the shower is essential. Traditionally, the most popular choice are curtains. However, you can get the same result with walk-in showers with glass screens.
Glass shower screens are very important for the bathroom because they help control splashing water and manage floor clutter without dividing the place. In addition, they are durable, easy to use, safe, and functional.
On the other hand, shower doors provide a better finish to the design of a bathroom, without blocking the natural light and providing more openness to the space. In short, they are a great option for your bath's minimalist style.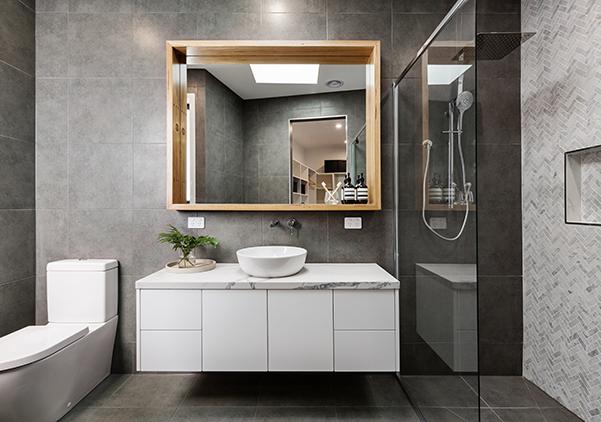 #3: Faucet Replacement for a Minimalist Style
Bathrooms with geometric shapes, simple sculptural finishes, and objects with a simple architecture must be present in your design. By doing so, you can attract attention and maintain the minimalist feeling you want to achieve.
Depending on the style you choose for your bathroom renovation, the faucet can look more elegant, modern, classic, or even traditional. In addition, with innovative designs, these bathroom fixtures can optimize water consumption.
Plus: Decorate with Plants and an Elegant Mirror
Adding plants can easily transform a dull and flat bathroom into a warm and colorful place. For example, you can hang or pot them, or choose some vines on the wall to add color and help freshen the air.
Plants can also add eye-catching details to your interior design and work in small and large spaces. This organic, full-of-life element will give your bathroom a minimalist touch that will capture the interest of everyone who visits.
Additionally, you can also get a large bathroom mirror. It is the perfect ally to achieve greater natural or artificial illumination. And even though it can be somewhat more challenging to clean, you will be gaining in comfort and style.
Following all these bathroom remodeling ideas, you can transform your place into your sanctuary and turn it into the best place to unwind and reconnect. And remember: With minimalism, the simpler, the better!
At PIC Home Pros, we offer the quality and durable bathroom remodeling solutions you need. Learn more about our Stylish and Fast Bathroom Remodeling and how we can enhance your renovation experience!